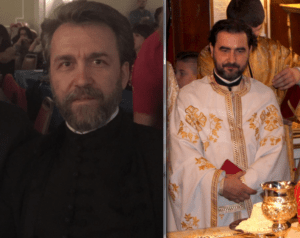 Please join us during Sunday service on August 21, 2016, at the General Theological Seminary of the Episcopal Church, as we welcome the new Dean of our Saint Sava Cathedral, Very Rev. Dr. Živojin Jakovljević and Very Rev. Fr. Vladislav Radujković.
Father Živojin Jakovljević, a native of Vragočanica, was born to his parents Života and Stana on May 4th, 1968 in Valjevo, Serbia. Upon completing studies at Saint Sava Seminary in Belgrade, Bishop Dr. Sava (Vuković) of Šumadija, of blessed memory, encouraged him to pursue higher education at Saint Sava Faculty of Theology in Libertyville, IL. As a graduate student, Father Živojin assisted  priests and taught church school  at Saint Archangel Michael Serbian Orthodox Church in South Chicago. Following graduation, he married Djurdjica Jaksić, and was soon after ordained to the Holy Priesthood by His Grace Bishop Dr.Mitrophan (Kodić). His first assignment was to Saint George's Serbian Orthodox parish in Lorain, Ohio. This is where two of his children, Marta and Marko, were born. Concurrently with his priestly service, Fr. Živojin pursued his education at The Ohio State University in Columbus, Ohio. This is where he earned his Masters (1999) and Ph.D. (2011) degrees in Eastern European Languages and Literature. After the completion of his studies, while serving as the Dean of Saint Sava Cathedral in Cleveland, Father Živojin remained active in academic work.  He continued teaching courses in anthropology, linguistics, Serbian language and culture (at Cleveland State University), and Serbian Church History (at Saint Sava Faculty of Theology). In the past decade he has published a monograph, two textbooks for children, several journal articles, and has given numerous presentations at theological seminars and academic forums. As a parish priest in Cleveland he established a parochial school and a daycare, which ultimately evolved into a Serbian school that has continued to flourish to the present time. Fr. Živojin currently serves as the chairman of the Standing Committee for Serbian culture and language of the Serbian Orthodox Church in the United States and Canada.
Father Vladislav Radujković was born to a priestly family in 1973 in Banja Luka, Republic of Srpska. His father, Very Reverend Stravrophor Ratko Radujković, has been serving as the Dean of Banja Luka's Cathedral and Bishop's Deputy for many years. After the completion of Saint Sava Seminary in Belgrade in 1992, Father Vladislav enrolled into the Theological Faculty in Belgrade, from which he successfully graduated in 1999. Upon graduation, Bishop Jefrem ordained him a deacon and appointed him to serve at the Cathedral Church in Banja Luka, as well as coordinate the work with children and youth, where he served for eight years. In addition, Father Vladislav served as the Serbian Orthodox Church representative for communication with media in Republic of Srpska. It is worth noting that Father Vladislav has founded Saint Sava Orthodox Youth Association and a Saint Sava Cultural Club, and remained its General Secretary coordinator for many years. As a soloist of the famous Choir "Jedinstvo", during international competitions, he has won numerous awards. Father Vladislav also pursued his education and in 2005 he earned a Masters degree in Public Relations at the Faculty of Communication in Banja Luka. Two years after his ordination to priesthood, due to health issues of his children, Father Vladislav came to the United States, where Bishop Dr. Mitrophan (Kodić) appointed him to Saint Sava parish in New York City. After four years of service at this parish, he was transferred to Serbian Orthodox Church of Saint John the Baptist in Paterson, NJ, where he served from October 1, 2012 to August 15, 2016. For the diligence that he demonstrated in his priestly duties, Father Vladislav was awarded a rank of protopresbyter in 2015.
We are grateful to have Father Živojin and Father Vladislav with us, and we pray that they will continue to serve our parish, with yet grater zeal to God's glory and the benefit of His Holy Church and its people.