A farewell message from Father Djokan, following his last Divine Liturgy today, as the Dean of Saint Sava in New York. We thank him for his full seventeen years of service at our Parish, and wish him all the best in his future endeavors at St. John the Baptist Church in Paterson, New Jersey.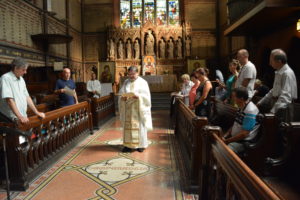 Very Rev. Father Djokan Majstorović, The Dean of the Cathedral of Saint Sava in New York from January 15, 1999 – August 15, 2016
My dearest household of Saint Sava in New York,
After 17 years and 7 months of serving as the priest in the New York parish, today I have completed my final liturgy as your priest. I thank Almighty God and our Diocesan Bishop Dr. Mitrofan for having granted me the privilege to be the Dean of the Cathedral of St. Sava in New York City, and the spiritual guide of this progressive community throughout these years.
I thank all of you, brothers and sisters, who sacrificed and unreservedly assisted me through various situations, opportunities and difficulties, enabling me to carry out my clerical duties with dignity in this challenging world metropolis.
I thank you for receiving me and my then young family (five-year-old son Savo and three-year-old daughter Marta) with love and as your closest family members. Truly, our lives among you have been most enjoyable. We will miss you, but you will always be in our wonderful memories and prayers.
I thank those who have sacrificed time and energy in the restoration and advancement of our church community on many levels. I specifically thank the various Church boards over the past several years, and their president, Mr. Nenad Milinković, who have invested their God-given talents, time and material resources to assist and advance this church community, particularly following our tragic fire. I will fondly recall the Circle of Serbian Sisters for their consistent humanitarian efforts through raising funds by nourishing our community and visitors from around the world with their preparation of thousands of delicious meals.
I will remember and thank our dearly departed brothers and sisters, who spiritually nourished themselves in this spiritual center and worked selflessly to safeguard and enhance the center for the future generations. May their memories be eternal.
I ask forgiveness from any If I, because of my own weaknesses, have insulted or caused emotional pain, and pray that the all-forgiving God be among us and with us. I ask that you live together in Christ's love, Christian unity and brotherly peace, and that you receive my brother priests, my successors, with the same love and joy you received me many years ago.
I beg that you unceasingly support the rehabilitation of our tragically destroyed church, once again to shine in its glory as a jewel in the City of New York. I will be serving in a neighboring parish, and there will be occasions when we will be meeting at Holy Liturgies and other holy days. So, I offer myself to in-coming Bishop Irinej, my brother priests and to you, my dearest parishioners, whenever you are in need of my help in restoring our church, my dearest St. Sava Cathedral.
I recommend my family and myself to your prayers, and I will pray to the God of Love and Peace that He bless you and your loved ones for all the days of your lives.
With love and gratitude, your prayerful servant before God, Prota Djokan