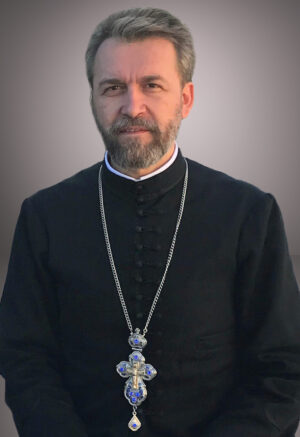 Very Reverend Dr. Živojin Jakovljević, Cathedral Dean
Father Živojin Jakovljević, a native of Vragočanica, was born to his parents Života and Stana on May 4th, 1968 in Valjevo, Serbia. Upon completing studies at Saint Sava Seminary in Belgrade, Bishop Dr. Sava (Vuković) of Šumadija, of blessed memory, encouraged him to pursue higher education at Saint Sava Faculty of Theology in Libertyville, IL. As a graduate student, Father Živojin assisted  priests and taught church school  at Saint Archangel Michael Serbian Orthodox Church in South Chicago. Following graduation, he married Djurdjica Jaksić, and was soon after ordained to the Holy Priesthood by His Grace Bishop Dr.Mitrophan (Kodić). His first assignment was to Saint George's Serbian Orthodox parish in Lorain, Ohio. This is where two of his children, Marta and Marko, were born. Concurrently with his priestly service, Fr. Živojin pursued his education at The Ohio State University in Columbus, Ohio. This is where he earned his Masters (1999) and Ph.D. (2011) degrees in Eastern European Languages and Literature. After the completion of his studies, while serving as the Dean of Saint Sava Cathedral in Cleveland, Father Živojin remained active in academic work.  He continued teaching courses in anthropology, linguistics, Serbian language and culture (at Cleveland State University), and Serbian Church History (at Saint Sava Faculty of Theology). In the past decade he has published a monograph, two textbooks for children, several journal articles, and has given numerous presentations at theological seminars and academic forums. As a parish priest in Cleveland he established a parochial school and a daycare, which ultimately evolved into a Serbian school that has continued to flourish to the present time. Fr. Živojin currently serves as the chairman of the Standing Committee for Serbian culture and language of the Serbian Orthodox Church in the United States and Canada.
Email: frzivojin@gmail.com
Office: (212) 242-9240
Mobile: (440) 552-6406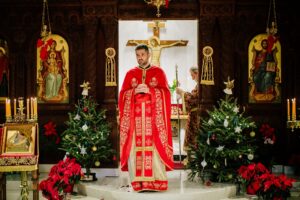 Rev. Milan Dragovic, parish priest
Very Reverend Milan Dragovic, son of Miljojko and Ljubica, was born on September 1st, 1977 in Prokuplje and grew up in the first capital of Stevan Nemanja, then Bele Crkve and today's Kursumlija. There, he finished elementary school, music school, and "Rados Jovanovic-Selja" Highschool of Natural Sciences and Mathematics (Gimnazija), of which he is especially proud. After high school graduation, he started to actively sing at the cantor's stand in the choir of his parish church of the Holy Trinity. He visited Mount Athos and the Hilandar monastery where he spent some time and found his second home and a source of inspiration to this day. He completed two years of college studies in electronics in Nis, after which, with his parents' blessing, and as a Hilandar scholarship recipient, he enrolled in the Faculty of Theology in Belgrade. In particular, he was interested in the studies of Liturgics, the New Testament and Canon law, which he selected as his major, and graduated with the highest grade.  Throughout his studies, he was actively singing at the cantor's stand of the choir of the monastery of the Holy Archangel Gavrilo in Zemun, as well as in the Cultural and Artistic Association "Rad" in Belgrade, nurturing the singing of original Serbian songs, focusing on those from Kosovo and Metohija.
In 2005, he married his chosen one, Dragana, nee Lazić, a graduate of the architecture engineering program, and with the blessing of His Holiness, the Patriarch of Serbia Irinej of blessed memory, then Bishop of Nis, who ordained him a presbyter in that same year. That same year, he was entrusted by His Holiness with service in the parish church of Saints Constantine and Helen in Nis.
The Lord blessed Fr. Milan and his wife Dragana with three boys – Vasilije (2006), Justin (2010) and Teodor (2017).
He is the conceptual creator and coordinator of "The Word of the Lord to the City of Constantine" project, which was realized on the occasion of the celebration of 17 centuries since the adoption of the Edict of Milan. The project was realized together with the Bible Society of Serbia, on which occasion over 55,000 families in Nis and other parts of the Diocese of Nis received a copy of the Holy Scriptures of the New Testament as a gift. In the year of that Jubilee, Bishop of Nis, Jovan (Purić) distinguished him with the rank of economos (protonamesnik).
Fr. Milan has continued his priesthood in the "New World", on the American continent, constantly discovering new opportunities and ways to witness Christ the Lord, while trying his best, so that, according to the words of the Holy Apostle Paul, he would be everything to everyone in order to bring anyone to Christ.
Email: frmilandrag@gmail.com
Office: (212) 242-9240
Mobile: (347) 572-8548