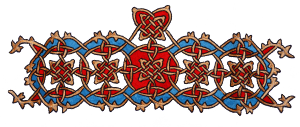 On Sunday, April 10, 2016, at 12:00 p.m., the Saint Sava's Church Hall will host an exhibition by Radmila Jovanović, an academic costume designer and a member of the Board of "Ethno Network" in Belgrade. The showcase will feature a presentation on the traditional embroidery handcrafts and designs, as part of the initiative to preserve Serbian cultural heritage, its values and traditions.
Radmila "Rajka" Jovanović has educated and passed her handcrafting skills to over 1,500 women across Serbia. She has significantly contributed to rejuvenating interest in traditional trades and artworks, such as folk costumes and household artifacts, which are now often presented as formal protocol gifts by the Government of Serbia. She regularly participated as a panelist in national hand-craftsmanship forums and competitions of the "Golden Hands of Serbia". Radmila served as director to numerous Serbian women national handcrafting exhibitions and continues her work on preserving Serbian national heritage of traditional embroidery techniques in cooperation with the Ethnographic Museum in Belgrade. The exhibition will remain open through April 15, 2016.
During the week, from April 11 through April 15, 2016, Radmila will hold daily classes at the Church Hall from 5:00 to 8:00 p.m. in traditional embroidery design.
For more information, please, contact: rajka.j53@gmail.com