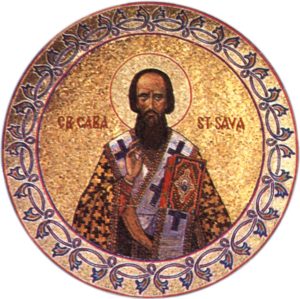 On Easter Sunday, May 1, 2016, the Holy Liturgy was served by His Grace, Bishop Mitrophan with Fr. Zivko, visiting from Timișoara, Romania, and our local priest, Fr. Djokan.  At the end of the service, six hundred and fifty parishioners each received a blessed Easter egg, followed by a festive luncheon.
In the evening, at approximately 6:45, a devastating fire broke out in our church, totally destroying the interior of the church and the stained glass windows. The priest's office, archives, church registries, computer and church furnishings were unharmed. Books in the Sunday school and other rooms in the building suffered water damage. The New York Fire Department, New York Police Department, Department of Buildings (DOB), among other government agencies, have been maintaining a close watch over the church, and intensively investigating the cause of the fire from the day it started to this day.
Construction engineers, surveyors and related professionals using state-of-the-art equipment constantly monitor the exterior walls of the church. It has been established that winds over 25 miles an hour can cause complete collapse of the walls; therefore, for reasons of safety, the DOB and other engineers  are carefully monitoring the situation before making any decisions as to whether to knock down the walls or  risk stabilizing them.
The church's insurance company plans to complete its investigation regarding the cause of the fire by next week, at which time it will submit a damage report to include the amount of insurance the church is entitled. For this rather complicated process the church has hired a "public adjuster", a professional in the insurance field who will assure we will receive the maximum amount of insurance for our loss. Clearly, we shall need significantly more funds to build a new church.
Various church organizations and New York City institutions have responded to our tragedy. The Episcopal Bishop of New York, Andrew Dietsche, called and cordially offered several churches for our use. With his permission and that of the Dean of the Episcopal Seminary, Sunday services will be held at 10:00 am, in the chapel at the General Episcopal Seminary, at 440 West 21st. Street, between 9th and 10th Avenues. His Eminence Greek Archbishop Demetrios generously offered accommodations in Greek churches and help from the Greek people. With his blessings we are holding services during the week in the Greek Orthodox Church of St. Elefhterios at 10:00 AM, at 359 West 24th Street, between 7th and 8th Avenues. Roman-Catholic Bishop of New York, His Eminence Timothy Cardinal Dolan, sent a warm letter of support, as did a number of Orthodox churches, church organizations, synagogues, New York City agencies and individuals.
Monetary donations arrive daily by check and "Paypal" through www.stsavanyc.org and "gofundme" campaign: www.gofundme.com/churchfirenyc. Donations are arriving not only from New York and America, but from various parts of the world.
A number of religious denominations who had experienced similar tragedies met with us to offer their practical and personal experiences in efforts to guide us through this overwhelming process: Dean of St. John the Divine, Very Reverend Dr. James A. Kowalski; Rabbi and representatives of Central Synagogue; Rabbi of Congregation Kehilath Jeshurun on 85th Street.  We received tremendous moral and material support and helpful advice from these sources.
From the very beginning of this tragedy the church board has kept track of events through close contact with New York's fire and police personnel and related city agencies regarding human safety and security of the fire site. The board holds frequent meetings to gather and analyze suggestions from attorneys and relevant individuals. All information is forwarded to Bishop Mitrophan for his perusal and blessing, and upon his approval and blessing, the board proceeds with its work. We ask that you exclusively follow all information about the tragic fire and future plans provided by the church office: the board and the priest.