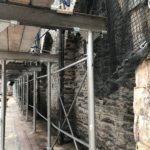 Church Restoration Following the removal of a huge amount of debris, the restoration of Saint Sava Cathedral continues to progress steadily. The current scope of work, which consists of the removal of the ornamental limestone from the church's interior, is almost finished. Upon completion of this task, the repair of the damaged central and upper part of the granite retaining walls, installation of the roof structure, flooring, and installation of windows and doors will follow. If all goes according to plan, the completion of this phase is anticipated by mid-year.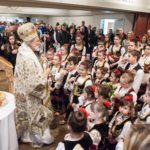 Saint Sava Celebration We wish to use this opportunity and express our joy that Saint Sava Celebration this year turned out be a beautiful event.  His Grace Bishop Irinej, our wonderful hosts at the Serbian Club, Opancici Folklore group, their parents and teachers, church choir,  and all of our faithful who came, contributed to the success of this event. We are very thankful to the family of Dmitar Mica Radinovic and his sons in law Miroslаv Dragojlovic and Dragan Jovanovic, who prepared and donated the meal for all who were present at the Saint Sava celebration. May God through the prayers of Saint Sava help us speedily restore our church and through this project unite and strengthen all of us.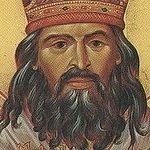 Orthodox Pilgrimage to San Francisco: Veneration of relics of St. John Maximovich – April 13-15, 2018. For more information please contact Milorad Danilovic by February 18th 2018. at: mmd442ver@gmail.com.