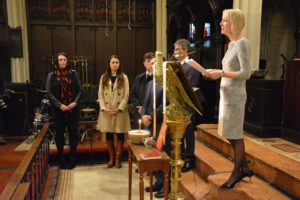 08-May-2016
Dear Fr. Djokan, Fr. Alexander, Fr.Aleksa and Fr. Ivan. Your Excelency, Fr. Rider. Dear fellow parishioners, dear brothers and sisters, dear children:
Hristos Vaskrse! Christ is Risen!
I am standing here today in front of you on behalf of the Executive Board of the Serbian Orthodox Cathedral of St. Sava in New York and our President, Nenad Milinkovic, who couldn't be here as he is attending an extraordinary meeting of the East American Diocese in Pittsburgh, PA. This meeting was called to discuss the tragic situation that has befallen our community in New York.
Today as we mourn the loss of our beloved Cathedral, we also rejoice in our love for each other and we thank God Almighty and St. Sava for sparing our lives – not a single person was hurt or killed last Sunday when our precious Cathedral burned to the ground on Easter Sunday just several short hours after 700 souls gathered together there to celebrate Easter – the holiest Day for us Orthodox Christians.
For over 70 years, we celebrated our holidays, got married, baptized our children and mourned our dead at St. Sava on 26th Street, in the heart of Manhattan. It's tragic what happened this year. There are no words to describe the sorrow in our hearts. We loved and proudly cherished our St Sava Cathedral, a national treasure and a NYC landmark. It was an old and enormous structure, over 160 years old.
Since Fr. Djokan came to our parish, 18 years ago, he has tirelessly worked on mobilizing the community and City officials to preserve and reinforce the old structure. We have spent over $4MM in renovations of the Cathedral, over $2MM for the roof alone. This is not small change, dear brothers and sisters. It is a lot of money. It was primarily raised by small donations from many, many of us the parishioners, who work very hard to raise our families and sustain our church. For many, if not most of us here, our church, our congregation is the only family we have in New York, and in many cases, in all of the United States. Most of us support family and friends in Serbia and regularly make charitable contributions for the benefit of the neediest in Serbia. It's not easy or cheap, to come to the Divine Liturgy every Sunday travelling from far corners of New York City outer boroughs, Brooklyn, Queens, the Bronx, like the Radakovich family, or from Long Island, or from elsewhere in the New York Metro area; or even farther away from New Jersey and Connecticut like the Milenkovic and Grimpas and Lazarevic and Milovic families; or from Rockland County like the Sanchez family, or from Westchester, like the Tomlin family, or from even farther away in Maryland where the Rogic family travels from, to pray together, to comfort each other and to bring their children to Sunday school where they are raised in the Serbian Orthodox tradition in the loving arms of Popadija Mirjana and sister Anastasija.
It is tragic what happened this year. But even if we lost our beloved Cathedral building, we have our living church – our congregation, our Serbian community in New York. We have each other.
It's been only a week since the tragedy, but there are many questions.
What will the future be like?
We are determined to renew our church at the same site, on the holy grounds of 26th St. We are looking at various options. The primary concern is safety. The officials are still investigating the cause of the fire and we are helping in that investigation any way we can. Please pay no heed to speculations of the causes of the fire nor play any part in them. We will return to the site as soon as it is safe. We are evaluating the safety of the structure with relevant experts and city officials to determine options that we have. We plan to create a comprehensive plan to take into account the Church Hall and the present condition of the Church to decide on the way forward.  With established safety, we will continue to hold services at the site and at a selected temporary location.
Have the church records been saved?
Yes, it seems that our church records have been saved including the Easter Day collections.
Do we have insurance?
Of course, the Cathedral was insured. However, all indications are that the proceeds from the insurance will not be enough to cover all the costs of the renewal.
How to donate?
The outpouring of well wishes, offers of support and donations have been immediate and unceasing. They come from Serbian Americans and those throughout United States who have no Serbian origin whatsoever.  Donations are tax deductible and should ONLY be sent via PayPal on our website at http://www.StSavaNYC.org. No other organization has been authorized to collect monies on behalf of our Church.  Checks may be sent directly to St. Sava Cathedral, 20 West 26th Street, New York, NY 10010.
The offers of support and donations also come from all over the world. We are humbled by this and grateful to all of them: from the heroic first responders, Fire Department of New York and New York Police Department to the continuous support of the offices of New York City Mayor and the Governor of the State of New York.
His Grace Bishop of Eastern America Mitrophan was with us the very night of the fire to pray and offer support. But many heads of other Christian Denominations have offered their condolences and support. To name a few: His Eminence Archbishop Demetrios, Primate of the Greek Orthodox Church in America, His Grace Metropolitan Tikhon, Primate of the Orthodox Church in America; Episcopal Bishop Andrew Dietsche and Cardinal Dolan who offered the sympathy of the entire Episcopal and Catholic communities of New York and offered the use of their churches while we renew. They remember the times when the Serbian Orthodox community of New York stood by them and others in their times of need. Our kindness toward our fellow New Yorkers has been returned in kind.
Over many years, we have been helping Serbian immigrants and refugees both here in New York and in the old country. We never dreamed that a day would come when the tables would turn and the struggling people of Serbia would be offering to share with us here in New York the little they have. We are particularly grateful to and deeply moved by the offers of help from our brothers and sisters, the long suffering Serbian people and the Orthodox Christian church in Kosovo and Metohija. Fr. Milomir Vlashkovic from Leposavic wrote:
"Christ is Risen! No one can feel your pain and sorrow for the loss of your sacrificed cathedral as do we, your brothers and sisters in Kosovo and Metohija. Our church community in Leposavic, has started a fund raising for the benefit of the renewal of your church. For starters, our friends, the Dimitrijevic brothers, woodcutters from Kragujevac, have volunteered to carve the same identical Carske Dveri you had in your Cathedral before the fire."
Dear fellow parishoners, we who serve on the St. Sava Executive Board are as young as Katarina Saric and Ivana Nikolic who are barely 30. They are our pride and our future. Many of us are mature, established people who have been serving our community for many years while running successful businesses such as our President Nenad Milinkovic, our 1st President, Alexandar Grimpas and Mira Zivkovic. Many of us are professionals in prominent firms such as Morgan Stanley, Bank of America Merrill Lynch and Google.
We are competent, devoted people who love each other and all of you. We have been meeting every day since the tragedy and we have been diligently working first and foremost on helping Fr. Djokan in attending to our parishoners' emotional and spiritual needs. We met with Bishop Mitrophan at his residence in New Jersey on Tuesday night and received his guidance and blessings. Everything we do and will be doing is and will be with his approval and blessing.
Many of you are asking how to volunteer.
Please fill out the volunteer sign up sheets that we're passing around today or email us at volunteer@stsavanyc.org
Where to get updates?
We will be posting updates at our website www.stsavanyc.org as they become available. For any information or to get an answer to any question or concerns you may have, please do not hesitate to reach out directly to St. Sava or Fr. Djokan. After this service, we will all walk together to the old church on 26th St. to pray under the two flags, which still fly barely damaged by the fire: one of our beloved country United States of America and the other of our blessed Serbian Orthodox Church.
That this fire occurred on the evening of our Easter celebrations is a tragedy but we are also reminded of the new life promised to us in the Resurrection of Jesus and that nothing can separate us from the love of God and each other. May all of us live into the days ahead sure of that hope united under the icon of St. Sava that was miraculously spared in the inferno.
For we have a long tradition here. Let's now hear from our dear Zorka Milich, who came with the church – she sang in the choir as a teenager when St. Sava was acquired by the Serbian community in the 1940s and is now our Queen of Joy.
Thank you.