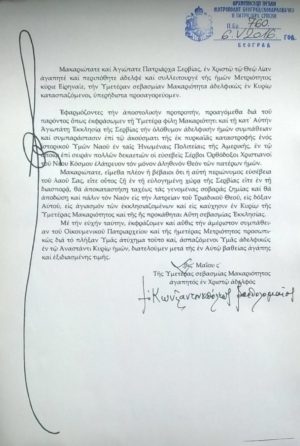 His Holiness Ecumenical Patriarch Bartholomew addressed a letter of support to His Holiness Serbian Patriarch Irinej and the Serbian Orthodox Church for the fire which engulfed the St. Sava Church in New York. With expressions of fraternal compassion, Patriarch Bartholomew noted that it is "an historical church in the United States of America in which the honorable Serbian and Orthodox Christians in the New World have continually glorified the One True God of our fathers".
At the same time, His Holiness Patriarch Bartholomew, on behalf of the Ecumenical Patriarchate, expressed his hope and conveyed his prayerful wishes that this magnificent church quickly be rebuilt and that in the future it continue to gather the faithful and honorable people in even greater numbers in glory of the Triune God.
Please click here to view the full article.