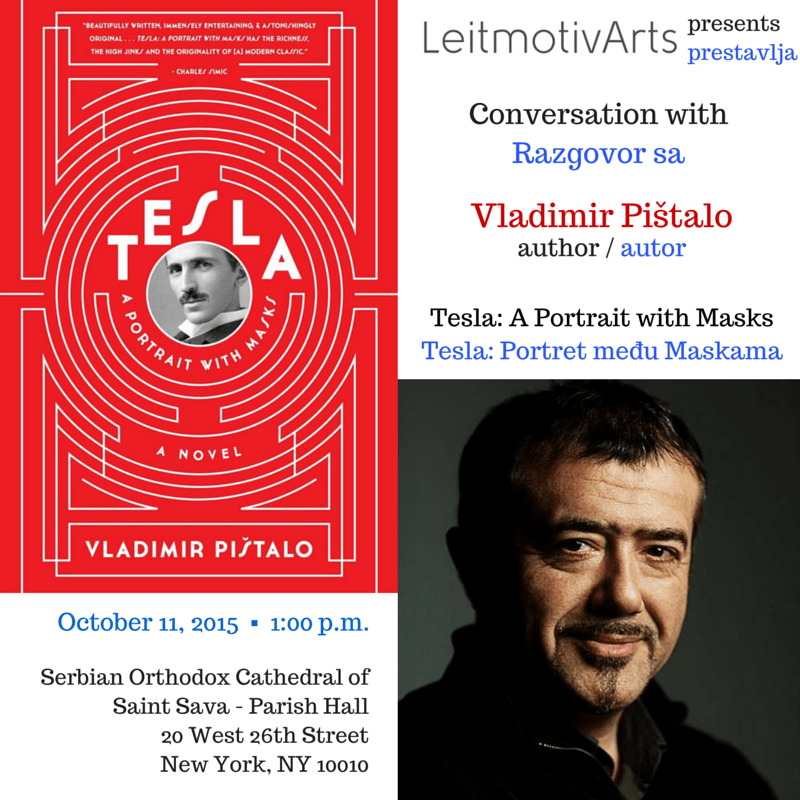 LeitmotivArts and St. Sava Cathedral in New York are pleased to invite you to an evening with the award-winning Serbian author Vladimir Pištalo and presentation of his novel "Tesla: A Portrait with Masks" at the Saint Sava church hall (W. 26th St. between Broadway and 6th Ave) on Sunday, October 11th at 1:00 p.m.  
"Tesla: A Portrait with Masks" recounts the extraordinary life of Serbian-American scientist Nikola Tesla, one of the twentieth century's most prodigious and colorful inventors. The novel was first published in Serbian in 2008 and won the prestigious NIN Award in 2008 for the novel of the year, and the award of the National Library of Serbia for the most read book in 2009. It was translated into English by Bogdan Rakić  and John Jeffries and published in January 2015 by Graywolf Press, one of the leading literary publishers in the US.
Vladimir Pištalo was born in Sarajevo in 1960. He studied law in Belgrade and Sarajevo and received a Ph.D. in American history from the University of New Hampshire. Pistalo's first story came out in a literary magazine when he was eighteen, and his first book was published when he was twenty-one. Since that time, he has published eleven books of fiction. He teaches US and world history at Becker College in Massachusetts.
This event is free and open to the public. For any questions contact Danijela Milić  at LeitmotivArts@gmail.com.