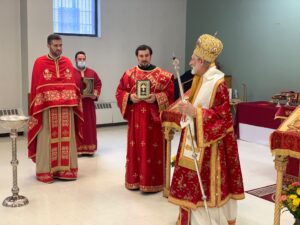 On the feast of Saints Cyrus and John, His Grace Bishop Irinej of Eastern America celebrated the Hierarchical Divine Liturgy for the faithful Serbian community of New York City, concelebrated by Presbyter Milan Dragovic, parish priest, and Protodeacon Milos Zdralic at St. Eleftherios Greek Orthodox Church in Manhattan.
In his sermon, Bishop Irinej pointed out the importance of Christ's message from the Gospel of Luke, which says, "Your eye is like a lamp that provides light for your body. When your eye is healthy, your whole body is filled with light." Referring to the essence of what was said, that is, that Christ speaks of the spiritual eye, he reminded that it should radiate purity, so that our bodies shine with imperishable beauty, which will save the world, as Dostoevsky once said. At the Liturgy, we also heard about the importance of placing our trust in the Heavenly Father, from the Gospel of Matthew, which speaks of trust in the Lord and liberation from fears and concerns. Behold the fowls of the air: for they sow not, neither do they reap, nor gather into barns; yet your heavenly Father feedeth them. Are ye not much better than they? Which of you by taking thought can add one cubit unto his stature? And why take ye thought for raiment? Consider the lilies of the field, how they grow; they toil not, neither do they spin: And yet I say unto you, That even Solomon in all his glory was not arrayed like one of these." So when the grass in the field, which is today, and tomorrow is thrown into the furnace, God dresses like that, let alone you, the unbelievers? So don't worry, saying, 'What are we going to eat?', Or, 'What are we going to drink?', Or, 'What are we going to wear?' and your Heavenly Father knows that you need all this. Seek ye first the kingdom of God, and his righteousness; and all these things shall be added unto you.
The magnificent Liturgy and sermon, which was attended by dozens of believers, was followed by an informal gathering and conversation of His Grace Bishop Irinej, with the Serbian youth and students in New York. In a pleasant environment, the Bishop and those gathered had the opportunity to get to know each other better, exchange ideas and thoughts, as well as to discuss important topics for the Serbian community and prospective initiatives under the auspices of the New York parish. 
New York, 12th of July 2021