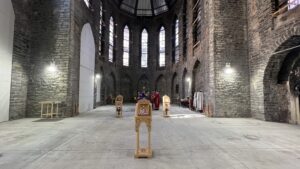 Presanctified Liturgy – Wednesday, March 29, 2023 at 6:00 pm
Saint Sava Cathedral 
15 West 25th Street, New York, NY
Divine Liturgy – Sunday, April 2, 2023 at 10:00 am 
Saint Sava Cathedral 
15 West 25th Street, New York, NY
Presanctified Liturgy – Wednesday, April 5, 2023 at 6:00 pm
Saint Sava Cathedral 
15 West 25th Street, New York, NY
Annunciation – Divine Liturgy
Friday, April 7, 2023 at 10:00 am 
Saint Sava Cathedral 
15 West 25th Street, New York, NY
Lazarus Saturday – Divine Liturgy 
Saturday, April 8, 2023 at 9:30am – The Serbian Club Hall
7254 65th Place, Glendale, New York 11385.
Palm Sunday – Divine Liturgy
Sunday, April 9, 2023 at 10:00 am 
Saint Sava Cathedral 
15 West 25th Street, New York, NY
Membership Renewal Reminder – We wish to ask all of you, who are already members, to renew your membership. It is necessary, for the sake of our records, to again fill out the form, found here, and forward it with your membership dues to the church office. Also, those of you who wish to become members are welcome to fill out and forward the aforementioned form.
Fire Guards Needed – Those of you who are willing to periodically serve as fire guards, whom we need in order to hold services at our Cathedral, please let us know. In order to be eligible you need to pass a short test and obtain the necessary certificate. For details please contact the church office at: office@stsavanyc.org.
Congratulations – to Bogdan Tešović, who was elected president of the Serbian Club. We express our gratitude to the Serbian Club for the hospitality it has shown towards the Saint Sava Cathedral by offering its hall for the occasional services and gathering of the faithful.