"SAINT NICHOLAS" GLADDEN THE LITTLE CHILDREN OF SAINT SAVA IN NEW YORK
For the first time in the history of the existence of Saint Sava Cathedral in New York, "Saint Nicholas" visited the little children of Saint Sava and delighted them with Christmas presents.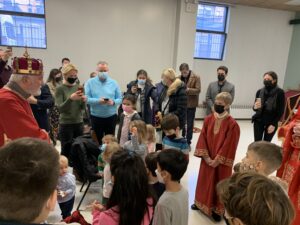 It was an indescribable joy seeing the happy faces of the children talking to "Saint Nicholas," asking their questions, responding to his questions, and taking their role in this event very seriously. As parents, our hearts were filled with joy and gratitude to God, Who has granted us the opportunity for our children to grow up in the Orthodox faith, and to learn the blessed Serbian traditions in our Saint Sava Community!
Today's feast day of Saint Nicholas was enriched by numerous celebrants who brought their Slavas' offerings for blessing in honor of Saint Nicholas, as well as our dear guests from Belgrade, Mr. Nikola Kosović and Ms. Aleksandra Đorđević, who Fr. Milan greeted and introduced to the faithful. As a tribute to our hospitality, they gifted us with a beautiful diptych to give us strength on our path to the renewal of the Cathedral, humbly asking for remembrance in our prayers.
We thank Fr. Milan Dragović and his wife Dragana, who initiated this beautiful event, as well as Mr. Milan Kneselac, who brought joy to the children of our Parish in the role of "Saint Nicholas."
Parents of the little children of Saint Sava