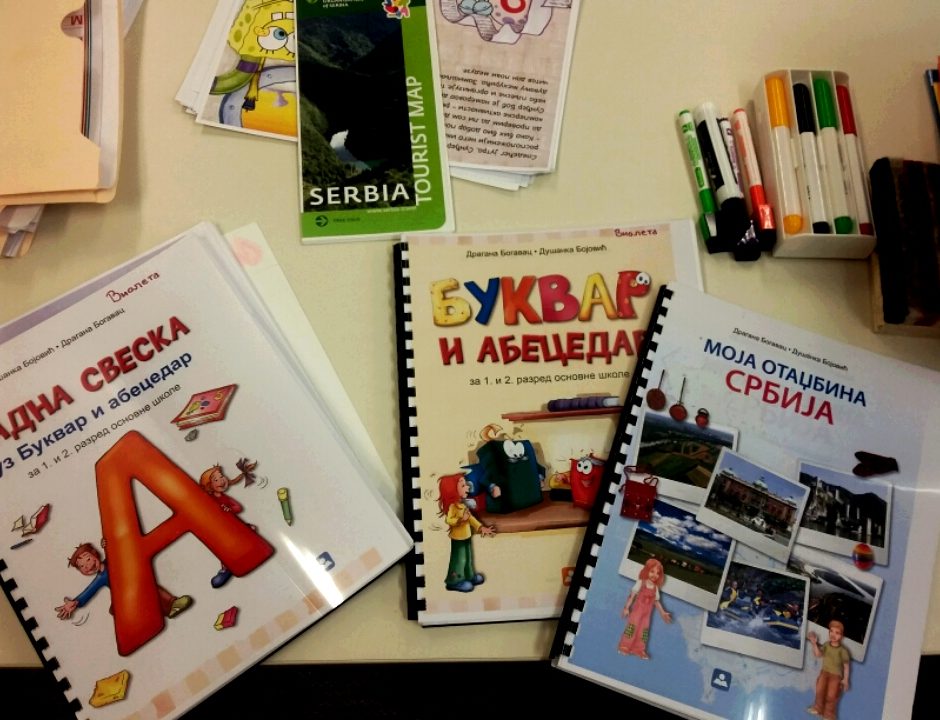 At the Catechism, children reviewed the lesson about love and learned that one form of love is our help to children who lost their parents.  Children further practiced the song "Sveti Sava Srbe voli", learned how to read the lyrics of the song, and started learning the song "Marijo slavna".
The preschool group learned the Cyrillic letters "M", "N", and "E", and new words through play and stories.
The first graders learned the letters "M", "N", and "E", and some new words.  They played various games outdoors, colored, read stories, sing kids songs and practices mathematics and numbers. Children learned the meaning of family and their roots.
The middle school group learned about nouns, groups of nouns and their division by gender, number and meaning.  They learned about poetry, prose and drama and analyzed the poem "Da li mi verujete" by Duško Radović.
Homework for all children: write letters "M", "N", and "E" ten times, go to church, kiss the icon and the cross. Practice the song "Sveti Sava Srbe Voli," and learn the first verse and refrain of the song "Marijo Slavna"  (you can find the song here).  Parents should help children to remember to cross themselves every day before going to bed, after getting up, before eating and learning, and say every day: "I'm grateful to God and my parents for all!"
Homework Assignments
Homework for the preschool group: finish pages 24, 36 и 40  in the book "Veseli Vrtić".
Homework for the first grade group: practice letters "M", "N", and "E" in the books "Radna Sveska uz Bukvar i Abecedar" and "Prvarica"; write, cut and paste on a large sheet of paper all of the letters they learnt so far.  We ask parents to help children learn about their family and their roots and help them complete pages 16-19 in the book "Moja otadžbina"*.
Homework for the middle group: write several sentences by using all seven groups of nouns.  Underline all  nouns and identify the groups they belong to in the poem "Da li mi verujete" from Duško Radović.  Continue reading a children's novel of choice.
*The excerpt from the book "Moja otadzbina", published by Zavod za udžbenike i nastavna sredstva Beograd.