At the Catechism, the children learned about Easter, which is one of the most important holidays.  On this day, we celebrate Jesus Christ's resurrection from the dead.  In addition, the children explained that they color eggs and go Easter egg hunting on Easter.
In Serbian language class, the preschoolers were reviewing and guessing colors.  They wrote words with letters П,С,Ћ, У and Р. The first graders practiced recognizing terms such as wide, narrow and discussed various shapes.  In addition, they practiced letters A and O.  The older children practiced the division of sounds and read a story called "Sveti Sava i čovjek koji je tražio sreću."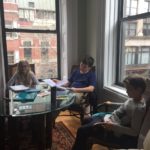 Homework for the preschoolers: finish pages 15, 18 and 24 in the textbook Veseli Vrtić.
Homework for the first graders: learn a song of your choice and write 5-10 new words.
Homework for older school children: according to you, write a story on "what is happiness." Do the exercises distributed in the class.