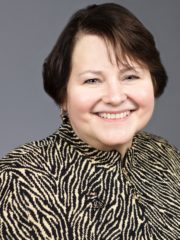 Maria Mirkovich was born, and then baptized and married at St Sava Serbian Orthodox Church in Cleveland, Ohio.  As a first generation American, her Orthodox faith has always been important wherever she moved professionally.  First to St Luke's in the Washington, DC area and now St Sava's in New York City.  At each one of these locations, a Serbian church needed to be built!  Maria is married to Feodor Byndas, who is of Russian Orthodox heritage and sings in our choir.
Maria earned a Bachelor of Science degree from Georgetown University's School of Foreign Service and a Master of Business Administration degree with concentration in Operations Research from Case Western Reserve University.
Maria Mirkovich is a Senior Manager in West Monroe Partners' Operations Excellence practice, where she is the Organizational Change Management Practice Lead for the East Coast. She has more than 20 years of executive and management consulting experience in organizational transformation, operations, and information systems.
Maria has an accomplished track record for driving organizational change, operational effectiveness, and delivery excellence. An astute adviser, thought leader, and mentor, she works with organizations to define direction and then lead seamless execution of key programs and projects through completion, satisfying both strategic objectives and delivery goals.