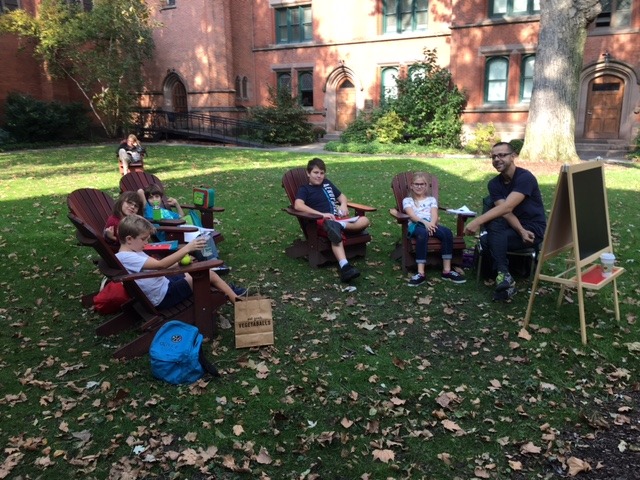 During the Catechism, children were shown how to make "metanija", how to cross themselves and how to kiss the icon.  Children were instructed again that Ansatasia was a princess and Saint Sava's mother, and that a golden halo on the icon represents eternity.  Children further practiced the song "Sveti Sava Srbe voli," and learned to read the text of the song and repeated the Cyrillic letters learned so far.
The preschool group learned the Cyrillic letters "T", "R", and "Z" through play.
The first graders learned the letters "T", "R", and "Z", including a few new words, and the days of the week.  They played games called "Ide maca oko tebe", "Day and Night", Detectives in the story about Sponge Bob, various games with numbers, and gathered tree leaves and wrote on them letters that they know. Children practiced subtraction and writing numbers.  Children practiced "Himna Sv. Savi".
The middle school group analyzed the fairy tale "Hansel and Gretel" and learned parts of speech.
Homework Assignments
Homework for all children: Write letters "T", "R" and "Z" ten times, go to church, kiss the icon and the cross. Practice the song "Sveti Sava Srbe Voli."  Parents should help children  remember to cross themselves every day before going to bed, after getting up, before eating and learning, and every day say: "I'm grateful to God and my parents for all!"
Homework for the preschool group: Finish pages 29, 43, 75 in the book "Veseli vrtic".
Homework for the first grade group: Memorize a poem of your choice, practice the days of the week and numbers up to twenty, and practice letters "T", "R" and "Z" in the books "Radna sveska uz bukvar i abecedar" and "Prvarica".  We ask parents to choose a fairy tale and to read it to their children few times times, as well as to help them practice "Himna Svetom Savi".
Homework for the middle group: Print all of the letters of the Cyrillic and Latin alphabets,  write one word for each letter; and start reading a children's novel of choice, identify its main characters and briefly recount the first two chapters.