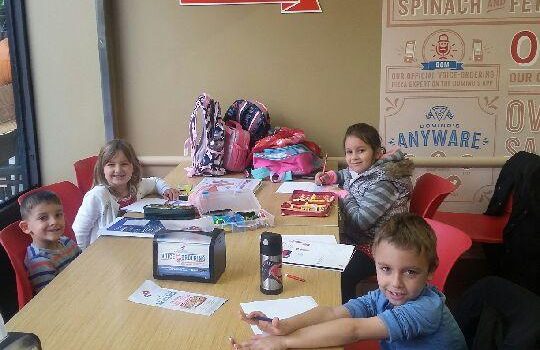 At the catechism, children learned how to perform "metаnija" before the icon of Saint Anastasia, paying attention on to how kiss her hand.  Children learned that St. Anastasia was a princess and the mother of Saint Sava, and that a golden halo on the icon represents the eternity.  Children learned that the saints depicted on the icons are God's friends, who respond to our prayers and help people in trouble, and that our prayer before the icon is an encounter between God and man.  Children further practiced the song "Sveti Sava Srbe voli".
In Serbian language class, the preschool group studied letters "L", "O", and "I", and continued to practice letters they learned in previous lessons, through play and pictures. The younger school group reinforced the material from last week's lessons, colored the Serbian flag, continued to learn colors, numbers and new words. They also learned letters "O", "L" and "I", played the game called  "Day and Night" and continued learning "Himna Svetom Savi."  The middle school group studied construction of words and gender of nouns, and read the fable, "The Fox and the Cat".
Homework Assignments
Homework for all children: Write letters "L", "O", and "I" ten times each, go to church, kiss the icon and the cross, and memorize the song "Sveti Sava Serbe voli". We ask parents to help children remember to cross themselves every day before going to bed, after getting up, before eating and learning, and every day say: "thank God and my parents for all"!
Homework for preschool children: pages 6, 7, 25, 31, and 53 in the book "Veseli Vrtić".
Homework for younger school group:  Do exercises with the letters "L", "O", and "I" in the book "Radna sveska uz Bukvar" and the "Prvarica".  In the second verse of "Himna Svetom Savi", circle all the letters that have been studied so far: "S", "A", "V" , "LJ", "U", "B", "L", "O", and "I", and learn the second verse.  With the help of parents, learn the names of five wild and five domestic animals.
Homework for secondary school group: Complete exercises assigned during the class and read a fairy tale of choice and retell it in a paragraph.  We ask parents to help children choose one children's novel that the child will begin to read regularly and analyze during the course of the program this year.