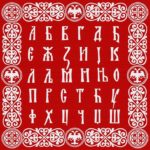 Welcome to our Serbian School, which opened on September 16, 2016.  Our Serbian school incorporates religious and cultural instruction through catechism and supplementary classes after the Divine Liturgy.  The Preschool Program is designed to accommodate our youngest students. For elementary  students, we offer Serbian Supplementary Elementary Education.  We also offer Serbian Language classes for adults in a separate program.  We are pleased to extend this invitation to all interested and prospective students to join our school.  For additional information, please contact Ms. Gordana Savić at 718-930-3179 or  St.Sava.School.NYC@gmail.com.
Serbian School is now enrolling students for the 2017/18 school year.  We extend this invitation to all interested parents and prospective students to contact us by the end of June with any questions and enrollment forms.  The enrollment forms are located at the bottom of this page.  For more information about our school and school activities, please see the topic School Activities located on this website. 

Preschool Program
The program consists of one school period of Serbian Language per week.  Children learn Serbian language and Cyrillic alphabet through stories, songs, and play.
Serbian Supplementary Elementary Education
The program consists of three school periods per week in Serbian Language, History, Geography and Serbian Culture.  The curriculum is based on the program developed by the Department of Education of the Republic of Serbia for schools in the diaspora.  Children are divided into groups based on their age and knowledge level.
Children in the Serbian Supplementary Elementary Education Program are required to attend school regularly. Our objective is to have students work in small groups of fewer than ten in order to achieve efficient and personal instructions.
Tuition is charged only for the Preschool Program, the Serbian Supplementary Elementary Education and the adult language classes.
Schedule of Classes for the Fall 2016

Introductory class – September 18, 2016.
1st Class – September 25, 2016.
2nd Class – October 9, 2016.
3rd Class – October 16, 2016.
4th Class – October 23, 2016.
5th Class – October 30, 2016.
6th Class – November 13, 2016.
7th Class– November 20, 2016.
8th Class – December 11, 2016.
9th Class – December 18, 2016.
10th Class – January 15, 2017.
Saint Sava Day – January 22, 2017.
11th Class – January 29, 2017.
Schedule of Classes for the Spring 2017
1st Class – February 5, 2017
2nd Class – February 12, 2017
3rd Class – February 19, 2017
4rth Class – February 26, 2017
5th Class – March 5, 2017
6th Class – March 12, 2017
7th Class – March 19, 2017
8th Class – March 26, 2017
9th Class – April 2, 2017
10th Class – April 9, 2017
11th Class – April 23, 2017
12th Class – April 30, 2017
13th Class – May 7, 2017
14th Class – May 14, 2017
15th Class – May 21, 2017
16th Class – May 28, 2017
17th Class – June 4, 2017
18th Class – June 11, 2017
19th Class – June 18, 2017

Period Schedule
Schedule
Preschool Group
First Graders
Middle School
12:30-1:15
Serbian Language
Serbian Language
Serbian Language
1:15-1:45
Catechism
Catechism
Catechism
1:45-2:30
Serbian Language
Serbian Language
2:30-2:40
                                                                Break
2:40-3:25
Serbian Language/Serbian Culture/Art
History/Geography/Art
Enrollment Forms for 2017/2018 School Year
Permission Forms