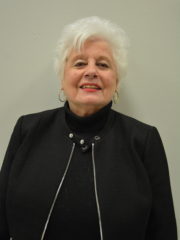 First generation American, born in Butte, Montana, to Jovan and Jovanka Masanovich from Montenegro. As an infant she moved to Hazleton, Pennsylvania, a coal mining town, inhabited by 200 families from Montenegro. Upon her father's death in 1941, the family moved to New York, where, as a teenager, Zorka attended the consecration of the Serbian Orthodox Cathedral of St. Sava in 1944.  Then, His Grace Bishop Nikolai served along with his great friend, Bishop Manning of the Episcopal Church in Manhattan, attended by clergy of all denominations, HRH King Peter and HRH Queen Alexandra Karadjordjevich, politicians and New York elite. Zorka and her future husband, Wallace (Vasilje), met at and were members of the St. Sava choir, where they married, baptized their two children, and from where her husband was carried to his final resting place.
Zorka received a Master's Degree in English from Hofstra University and a Doctorate from St. John's University. Her book, A Stranger's Supper (Simon & Schuster 1995) and Tudja vecera (CID 1996), is an oral history (interviews) of thirty Orthodox, Muslim and Roman Catholic women (the majority being Orthodox) in Montenegro, between the ages of 101-115.
She taught English at St. Mary's Girls' High School in Manhasset, NY, for 10 years and at the State University of New York Nassau Community College for 35 years, retiring in 2007. Zorka belongs to a number of scholarly organizations, including the world renowned Explorers Club. She has spoken about her oral history project at numerous universities here and abroad, including Bogazici University in Istanbul and The Museum of Natural History in New York.
Zorka serves as chairperson of the Cathedral's Restoration & Development Committee from 1996-Present. The R&D raised and spent $4.5 million toward the restoration of deferred basic structural deterioration of the Cathedral of St. Sava throughout its 70 years. She also served on several church Executive Boards and as President in 2011. In 2017, she became a member of Njegos Foundation Advisory Counsel.